THIS PLACE (2022)
director, co-writer, executive producer
a coming-of-adulthood story about two women falling in love for the first time. as they grow closer, each is forced to confront their families in unexpected ways. through multiple legacies complicated by love and loss, this film follows those living in the liminal space between cultures. // world premiere: 2022 Toronto International Film Festival.
co-written with Kawennáhere Devery Jacobs & Golshan Abdmoulaie, produced by Stephanie Sonny Hooker.
produced by Mutuals Pictures and Hometeam Films, with the generous financial support of Telefilm Canada, CBC Films, CFC/Netflix Accelerator, Station 369, Ontario Arts Council, and Inside Out's RE:Focus Fund.
THE LOVE WE MADE (2021)
director, writer // following an unexpected loss, two lovers struggle to find the right words to share between them. witnessed through moments of both private joy and grief, their story reflects the uniquely heartbreaking nature of a miscarriage and what can be lost amidst this type of loss.
produced by Temilola Adebayo and Abubakar Khan, executive produced by the Canadian Film Centre.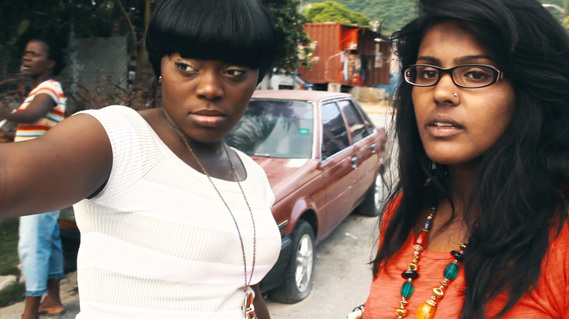 SHADEISM: DIGGING DEEPER (2015)
director v.t. nayani's mid-length documentary explores the issue of shadeism, the discrimination based on skin tone between members of the same community. this issue around shade, of certain skin tones being considered "better" than others, was never missing from conversation while growing up for nayani - she could feel its constant presence in conversations among family and friends. alongside her friends and family, nayani begins to recover and re-imagine what beauty means for Black, Indigenous, and other women of colour globally. this film looks at where shadeism comes from, how it directly affects women-identified people, and explores how we can continue to move forward together.
world premiere & special jury recognition: 2015 Zanzibar International Film Festival. also featured at: 2016 AWID International Forum (Bahia, Brazil), 2016 Feminist Art Conference (Toronto, Canada), 2017 Chale Wote Street Art Festival (Accra, Ghana), 2017 Lights Camera Africa Film Festival (Lagos, Nigeria), and 2019 Women Deliver Film Festival (Vancouver, Canada).